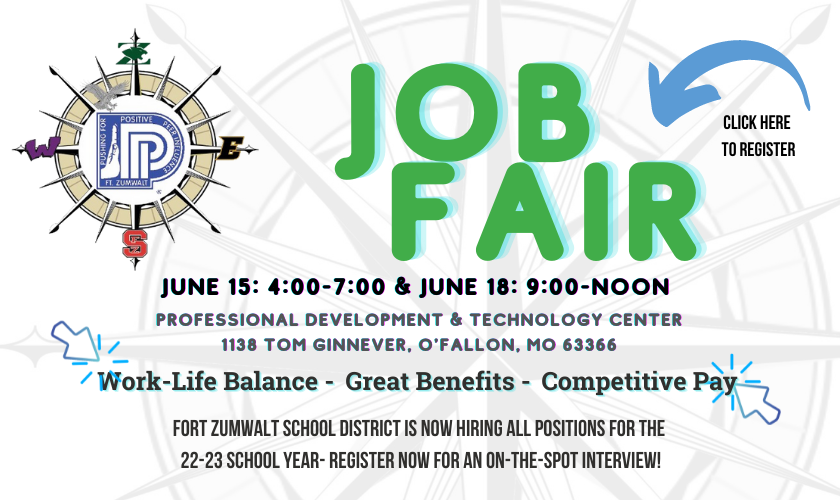 Top Ten Reasons to Work for Fort Zumwalt
More than 1,500 teachers and 1,300 support staff rely on our personnel department to help them navigate the application process, orientation, career and retirement.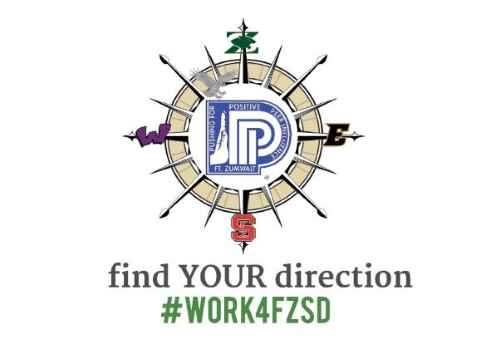 #1 Make a Difference! Clerks to Custodians, Techs to Teachers. Fort Zumwalt employees work to create such a positive environment that all students reach their potential! Join the Fort and you can be a part of doing what is best for kids every day.

#2 A Schedule that Matches Your Child's - Many positions mirror the school schedule. When students are off, you are too! Steady hours. No weekends. No nights or evenings (unless you want to work nights). Holiday breaks.

#3 Benefits! Benefits! Benefits! - Fort Zumwalt employees get great benefits for no cost. The district pays the entire premium for health, dental, and vision insurance for full-time employees. Zumwalt employees are also enrolled in the PSRS-PEERS pension system with a minimum 6.86% contribution MATCH!

#4 Leadership Opportunities & Career Paths - Fort Zumwalt is full of employees who have worked their way up to supervisory positions or who have utilized the tuition reimbursement program to further their career. FZSD offers opportunities for growth!

#5 Positive Working Environment - Working for the school district allows you to be a part of a team, always working together to create the best environment possible!

#6 Hours that Fit Your Life! Many positions offer scheduling that works well for both working parents. Do you want to work while your kids are at school? Are you a night owl? Early riser? FZSD has a position that will fit your schedule.

#7 Integrity Always - Fort Zumwalt continually strives to do what is best for its students, staff members, and community through numerous programs including PPI and FZiAM.

#8 Paid Time Off - Life happens! Full-time employees are granted paid sick and personal time each school year.

#9 Tuition Reimbursement - Employees continuing their education can take advantage of graduate hour and tuition reimbursement, plus numerous professional development opportunities throughout the year.

#10 You are Noticed and Appreciated! The school district celebrates all of its employees. Whether it be appreciation days, Blue Notes, or Educator and Employee of the year celebrations, your hard work never goes unnoticed!